It is always important for a business to implement a service that is easy to use for your employees and saves you money and time. If your business needs a phone system, or an upgrade to a better phone system, options in 2020 can be overwhelming.
Choosing the phone system can be challenging based on your business model. Coming out of 2020 a lot of employees have been working remotely, setting up home offices, some with a blend of both. Considering all this, you then look to the kind of system you want to go with (Landlines, VOIP, Virtual) and how you want the equipment hosted i.e., on-premises, or in the cloud to better increase efficiency and productivity among your business.
What is Hosted Phone System?
A Hosted phone system is a cloud-based PBX (Private Branch Exchange) system that allows you to get a secure, reliable, phone service for your business or organization through an internet connection hosted by your service provider.
With a Hosted set up, you will not have to worry about managing separate networks for voice and data. Both can be easily managed by your service provider. Setting up a Hosted phone system is easy without extensive installation and hardware costs.
As remote employment grows in popularity, or even the ability to manage flexibility through a blend, more companies are choosing the path to a cloud-based PBX system.
What are some of the benefits of Hosted Phone Solution? *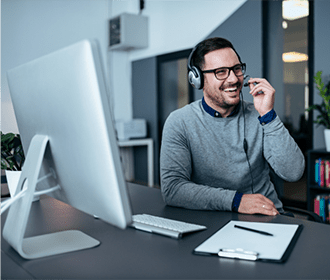 If you think a cloud-based phone system is something you think would be best for your business, Mosaic Technologies offers the best packages with updated technology in hardware too. All this with best prices in town.
Reach out to us to set up a consultation with our IT Specialist.
Ask us more about our new Business Solutions and 24/7 IT Support. Find out more on experiencemosaic.com
Let us make one thing in your life worry free! Feel free to reach out to us with any questions at 715-458-5400.
* The claims are specific to Mosaic as other hosted phone system providers. Our servers are in our CO's and redundant for services. The customer's data does not leave our system or the US.