Cameron, WI – On January 3rd, 2023, Mosaic Technologies announced the promotion of Alan Sopko to Chief Technical Officer. CEO Domenico Fornaro was quoted saying, "Alan is a key leader and has been instrumental in Mosaic's success over the last several years. Under Alan's leadership, IT and Centralized Services will continue to evolve and prepare the company for the future." Mosaic Technologies continues to build a Best-in-Class Fiber Network stretching across Barron, Chippewa, Dunn, and Washburn counties. Through exponential growth and service expansion over the years, it was necessary to grow the company's internal structure as well.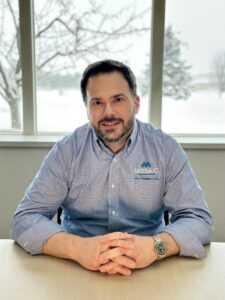 Alan has over 20 years of operations experience spanning multiple industries. In 2020, Alan Sopko joined Mosaic Technologies as the Director of Analytics and Product Development. He quickly rose to Vice President of IT and Centralized Services in June of 2021 to allow for a streamlined integration of technology product development and design, deployment, and support.
"I've had the pleasure of working with many talented people over the course of my career, but the team at Mosaic made an immediate impression upon me for their commitment to bringing best-in-class services to our customers," said Sopko. "Working together, we will continue to expand our fiber network and meet customers where they are – delivering industry-leading technology solutions backed by an incredibly talented staff. I look forward to serving you, our customer, and commit to an exceptional level of service as we grow together."
With his background in operations leadership and strategic planning, the company is thrilled about his appointment to Chief Technical Officer. We are excited for Alan and his team as they continue to implement innovative efficiencies. This strategic organizational alignment will help strengthen our employee team and effectively develop and support our expanding residential and commercial customer base, bringing our Northwest Wisconsin service areas the Best-in-Class solutions and support.
For more information about your local technology partner Mosaic Technologies, visit ExperienceMosaic.com or call Mosaic Technologies at 715-458-5400.
Mosaic Technologies is a highly respected local technology provider advancing efforts to close the digital divide by delivering robust and high-quality services over a future-proof redundant fiber network. Their commitment to building a sustainable, quality future-proof network makes rural communities a fertile ground for innovation in economic development, e-commerce, health care, agriculture, and education. Mosaic's telecommunications products and services include high speed internet direct to the home, managed Wi-Fi, Live streaming TV, VoIP phone service, UCaaS phone solutions, DIA Circuits, SIP, cloudbased services, business IT solutions, and additional managed business solutions customized to meet the needs of all business sizes. Mosaic Technologies is a GIG Certified provider serving homes and businesses across Northwest Wisconsin. Visit us at www.ExperienceMosaic.com.